And Peace Reigns Once Again
Oh, people. Sorry I didn't post earlier today, but I've recently become very unpopular with the middle school set. I banned video games in the library for the week and I've been dealing with the repercussions since. I mean, I'm pretty sure I can regain my lost cred when I chaperone the school dance (busting out the hip hop moves to some classic Vanilla Ice always wins back their affections- they're so easy), but the kiddos took it pretty hard today.
On the bright side, my library is once again library-like. There's no shouting, swearing, or crowds. Kids were doing homework and there were no fisticuffs over the computers. In short, it was no longer like the mall arcade. It was... peaceful.
That's not to say the library wasn't hopping. I had kind of thought that because of the imposed ban that the computers would be empty, but they were all full of students doing work when I walked by. I was actually pretty impressed, until I walked by one of our more socially unfortunate 6th grade boys and saw this: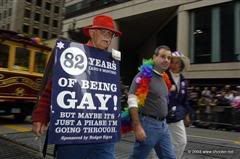 At first I thought he was just looking up images to get a laugh from his friends. I was about to send him for a little discussion with the Health teacher about respect, when I decided to just ask him point blank what he was doing.
Apparently, he was doing a travel brochure on San Francisco and discovered that the gay pride parade was a large tourist attraction there, so he wanted to include it in his PowerPoint. Normally I would think this was the wise guy answer, but this kid just does not have it in him. Like I said, he's kind of special. Sigh. So I let him keep it. I mean, I guess it was better than the two boys making their own WWE PowerPoint presentation, just for fun. Right?