This Is Your Last Chance... Ever
It's the very last day of De-lurking Week so bring your A game, people. Leave me some comments or forever hold your peace. (Kidding, but seriously... I know you're out there. Not leaving a comment is like stealing. Stealing happiness, from me. You wouldn't want that, now would you?)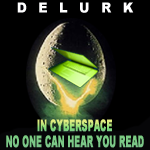 Plus, I've had a pretty crappy day, so it would really make me feel a bit better to hear from you all. First thing this morning I had some brilliant kiddos shoving each other until they shoved each other right into a bookshelf, knocking an entire ceiling-length shelving unit and all its books to the ground and narrowly missing the skulls of a group of girls engrossed in their video ipods. A lovely way to start the day. (And a bonus of detention paperwork and three boys to clean my library during their lunch periods.)
Then I dealt with a substitute for the music teacher who is clearly half-retarded, as evidenced by the fact that I was unable to go 10 minutes without him sending a student down saying things like, "Our substitute doesn't know how to start the movie" (I went down and pressed PLAY for him), or "Our substitute doesn't know how to stop the movie" (I went down and pressed STOP). The best was when he sent a student to me to say: "Our substitute wants to know how to play the keyboards." Oh, really? Well so do I, why don't we sign up for lessons together? Please stop being an idiot, sir, it's really making me crazy. And your lisp isn't helping matters any.
I also realized when I was halfway to school that I had forgotten my lovely aloe tissues at home and so I've been using the
sandpaper
paper towels the school provides because there is apparently no money in the budget for real tissues. My poor nose is
not
very happy with me.
Fortunately, it's Friday. And it's a long weekend. So I will have time to chill out before I have to return to Crazy Land on Tuesday. I think a long sleep and perhaps a few too many adult beverages will go a long way to making me feel better. Plus, C and I are planning an excursion to the
Museum of Science
- hooray, astronaut ice cream!